Jaguar TCS Racing Team Principal James Barclay was born and bred in South Africa and when he's not travelling the globe following the Formula E circuit, he relishes the chance to return home. Cape Town is a destination that's a standout for Barclay, and he shares with us his favourite spots to eat, stay and play when he's in town.
BEAUTIFUL BEACHES
Cape Town is renowned for its natural beauty, and that includes its gorgeous coastline. Beachgoers are spoilt for choice, but Barclay has a few favourites. Llandudno is a seaside suburb of Cape Town, and the beach sits in a cove bordered by large granite boulders and surrounded by natural bushland. Soft, white sand feels welcoming underfoot but the water is very cold so best suited for the braver swimmers. Clifton is made up of four separate beach coves numbered one through four, divided by large boulders with white sands and chilly turquoise waters. Clifton Second is popular with enthusiasts of beach sports, or you can secure a sun lounger for a more relaxed experience. Boulder Beach, in a sheltered inlet near Simon's Town, is a must-visit for Barclay, where you can view a protected colony of African penguins in their natural habitat.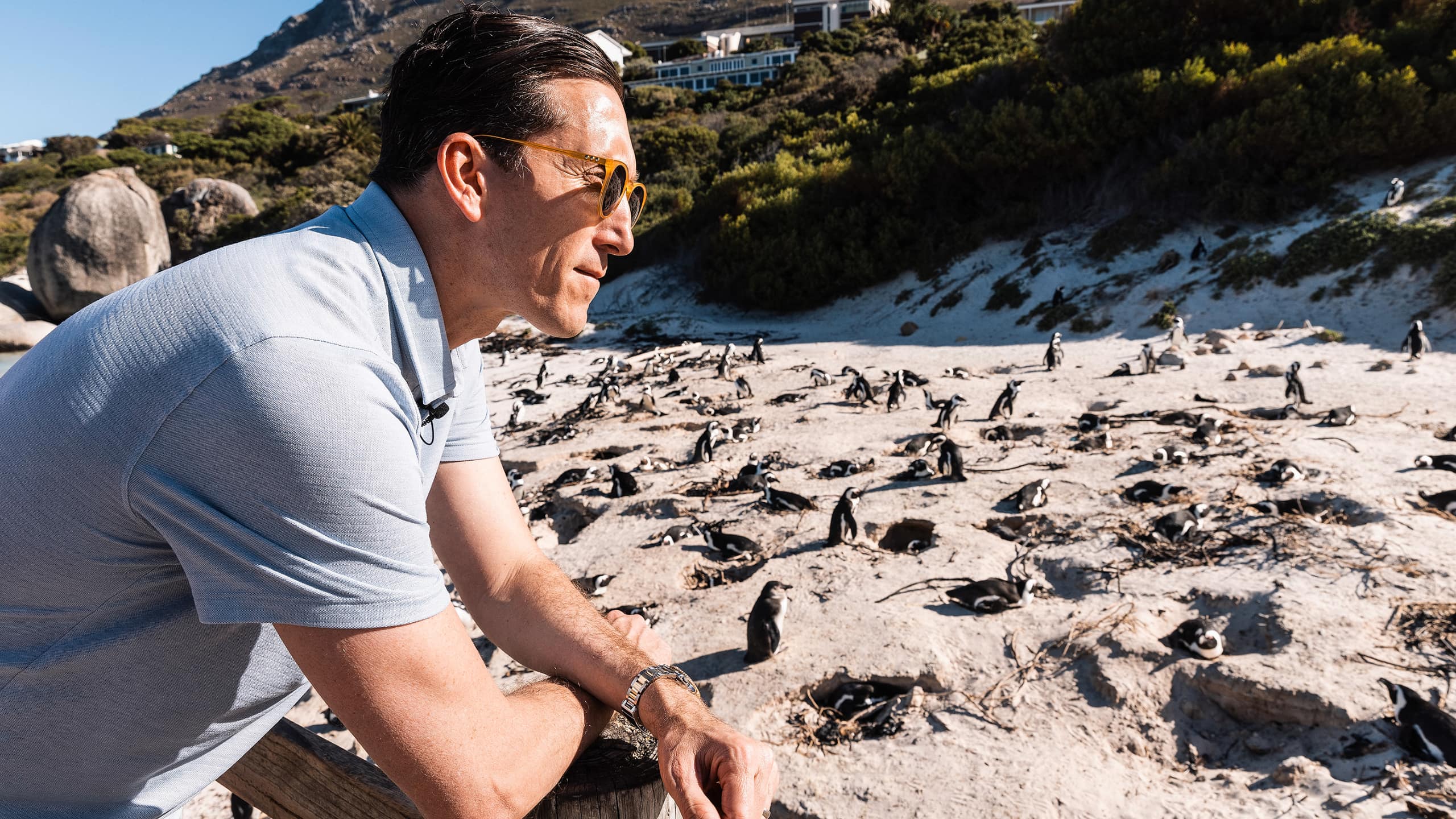 DELICIOUS DINING
Cape Town has developed a global reputation for its dining scene, with world-class chefs creating a mouth-watering array of diverse cuisines. Barclay can't go past Chefs Warehouse Beau Constantia, a modern eatery just 20 minutes from Cape Town. Chef Ivor Jones celebrates bold flavours, with a produce-driven menu influenced by the seasons. The sleek, open plan restaurant offers exceptional views across the lush valley. The Nines Sea Point is a rooftop restaurant and cocktail lounge, serving up two hundred and seventy degree views of Sea Point and surrounds through floor to ceiling glass. The food is produce-driven and a contemporary take on classic dishes and perennial favourites. For something really special, FYN was awarded number 37 in The World's 50 Best Restaurants 2022. It's set in a stunning industrial space, rich in design and mood. The menu blurs the boundaries by melding South African influences with Japanese techniques, and is an unmissable stop on any Cape Town itinerary.
SOPHISTICATED STAYS
Barclay's recommendations for hotel accommodation are both institutions in Cape Town. Mount Nelson Hotel is a luxury resort that has been welcoming guests since 1899. Painted pink to celebrate peace at the end of the Great War, this iconic hotel is nestled between Table Mountain and the city, and offers the ultimate in luxury and glamour. Ellerman House is an award-winning luxury boutique hotel and two private villas, set in lush indigenous gardens above Bantry Bay, with jaw-dropping ocean views. The hotel showcases an impressive collection of local art, along with memorable culinary experiences, and a spa that melts away the stresses of the outside world.
WONDERFUL WINE COUNTRY
Wine lovers will appreciate Cape Town's close proximity to magnificent wine estates. Spread over 40,000 square miles, the Cape Winelands includes different regions, each with distinctive sceneries and terroirs. Barclay recommends starting at South Africa's oldest producing wine farm Groot Constantia, established in 1865, with grapes grown in rich African soil and crafted to perfection. Jordan Wine Estate in Stellenbosch has been producing world-class wines since 1993. The estate also offers luxury accommodation, and for Barclay the Restaurant at Jordan is a must. The regions of Stellenbosch and Franschhoek are ideal for a road trip as you explore the many wineries, with the hop-on hop-off wine train a great option to discover the beauty of the Franschhoek Valley.
ESSENTIAL ITINERARIES
While you could spend all your time in Cape Town eating and drinking, there are other essential stops you should add to your itinerary in the region. Chapmans Peak drive is one of the most spectacular and scenic coastal drives in the world, winding its way between Noordhoek and Hout Bay. Cape Point is a World Heritage Site and a finger of land where the Atlantic and Indian Oceans meet. Along with its dramatic beauty, it also offers a fascinating history, just 60km from Cape Town. If you time your visit to Cape Town between June and December, you should head to the South Coast of the Western Cape located 90 minutes from Cape Town, which is famous for its unforgettable viewings of Southern Right Whales. Some of Barclay's most memorable experiences of home have been in this very special part of the world.