Jaguar Classic is celebrating the race winning pedigree of the iconic E-type by producing seven exclusive pairs of E-type ZP Collection vehicles. These very special collectible vehicles honour the first race-modified E-types entered in competition, claiming victory only months after the E-type's introduction in 1961.
Each pair of E-type ZP Collection vehicles includes a drophead coupe and a fixed head coupe, finished in liveries inspired by those original race-winning cars and painstakingly restored by the experts at Jaguar Classic Works in Coventry. The two inspiration cars were driven by Graham Hill and Roy Salvadori and are typically referred to by their registration numbers, 'ECD 400' and 'BUY 1'. The E-type ZP Collection features engineering upgrades and enhancements for the modern driver.
When 'ECD400' and 'BUY1' took first and third positions in the Oulton Park Trophy for GT cars in 1961, it marked the beginning of the E-type's racing career and an impressive continuation of Jaguar's racing pedigree established by iconic models like the C-type and D-type.
E-TYPE ZP IN OULTON BLUE
The E-type 'ECD 400' was Indigo Blue, and today the first of the tribute pairs is inspired by this colour with its finish in Oulton Blue. It also features a black hood and a range of exterior details that honour Hill's race-winning vehicle. The roundels on the bonnet and door are finished in white. The nose has been meticulously reworked and hand-finished by Jaguar Classic engineers to achieve a flawless face for the vehicle with over 40 additional hours of labour. There are chrome bumpers front and rear with wire wheels and wheel spinners bearing a Jaguar Heritage logo, and a beech wood steering wheel for a correct period look. The external bonnet locks feature ZP logos joined by a leather bonnet retention strap, while a selection of additional ZP details are visible across different elements of the vehicle.
Inside, the interior is finished in red leather by Bridge of Weir and in-period Hardura trim, offering an authentic specification. A golden growler horn push is included, along with unique art panels on the centre console finished in anodised aluminium, created by engraving artist Jonny "King Nerd" Dowell.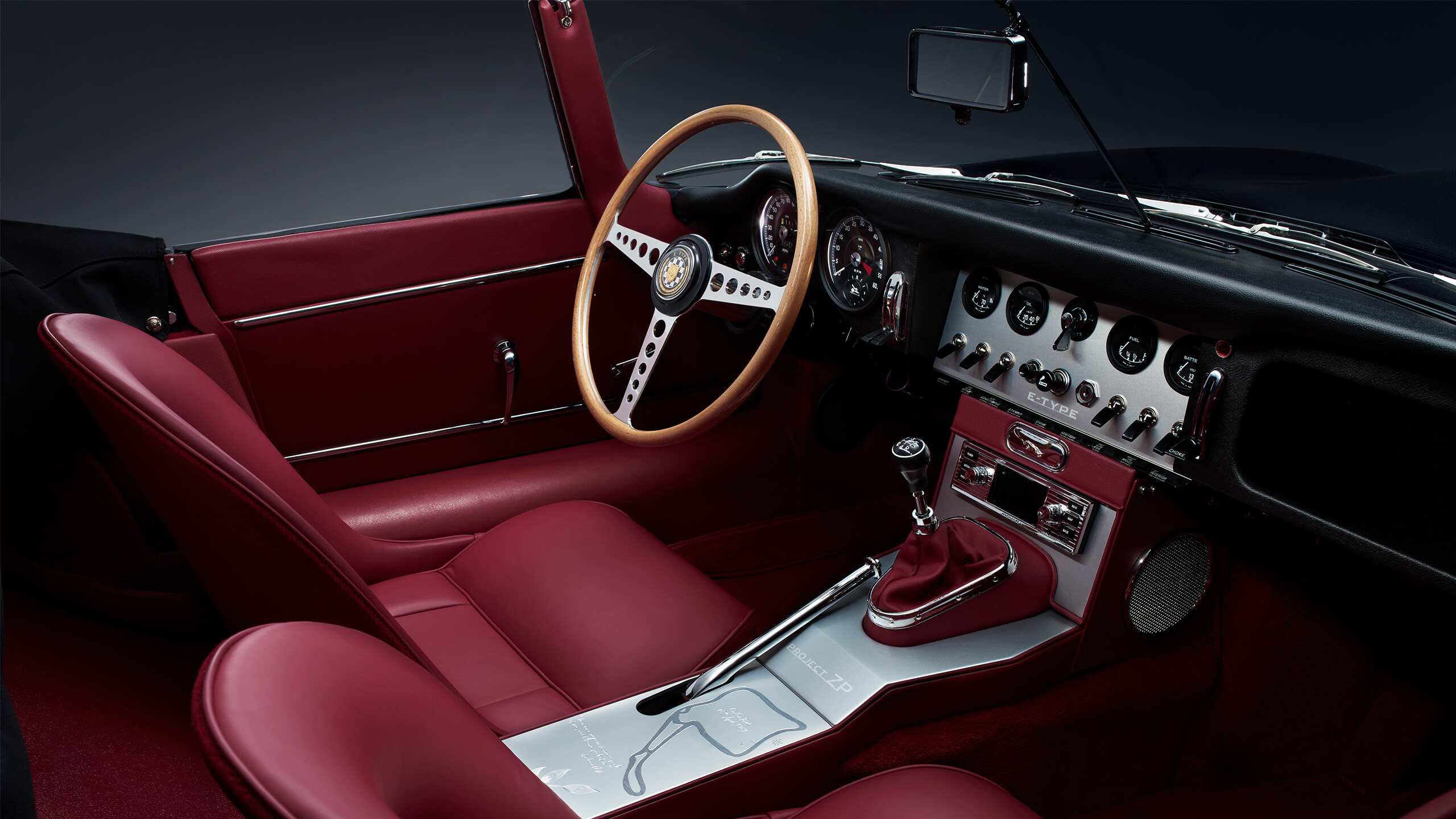 E-TYPE ZP IN CRYSTAL GREY
The second vehicle in the pair honours the E-type Salvadori drove to victory at Crystal Palace in 1961. While original Project ZP cars were based on drophead coupes, the vehicle inspired by 'BUY 1' is reimagined as a fixed-head coupe, giving collectors examples of both body designs. The original car's paintwork was Pearl Grey, while the contemporary interpretation is finished in Crystal Grey, highlighting Salvadori's Crystal Park win.
Like the Oulton Blue version, the Crystal Grey fixed-head coupe comes with white roundels and similar exterior detailing, the same chrome bumpers, along with the welded bonnet louvres and unique side graphic detail. The interior features Dark Navy Bridge of Weir leather with matching Hardura trim and a beech wood steering wheel, while the centre console aluminium detailing is anodised in grey. 
MODERN USABILITY AND RELIABILITY
Under the hood, the ZP Collection blends authenticity with modern usability and reliability. The vehicles offer a 265bhp 3.8-litre engine featuring an authentic 1961-style alloy radiator with electric cooling fan, alongside electronic ignition and a polished stainless steel exhaust system. A specially developed five-speed manual transmission offers quieter, more comfortable cruising. Additional contemporary enhancements include the Jaguar Classic Infotainment System with DAB radio, Bluetooth connectivity and navigation.
Each vehicle comes with a matching Everoak helmet inspired by the helmets Hill and Salvadori wore. They are handmade by Bill Vero who has been crafting them since the 1950s, and come in bags specially created by the in-house trimmers at Jaguar Classic.